Hot on the heels of my somewhat remorseful post about my meadow neglect is a post about meadow rejuvenation.
Weeds dug:
Mulch down: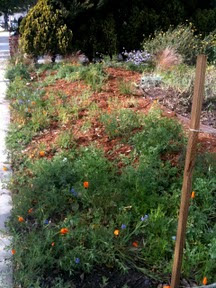 I think that the Platonic ideal meadow doesn't have a mulch, but mine does now. It's simply too much work to contend with the weeds otherwise. I chose a shredded bark mulch because I thought it would decompose fast enough to mimic decomposition in an actual meadow while still keeping the weeds down. I also thought it would stay on the slight slopes that I've built and not roll or wash off.
I had the help of Saul and Juli who worked with me all day and we managed to weed and prune the whole front yard as well as other miscellaneous tasks.
- Posted at great expense from my iPhone